A warm-hearted welcome at the "Königlicher Hirschgarten" – the largest beer garden all over the world! You find this traditionally restaurant in Nymphenburg, a district of the Bavarian city Munich. This house is run as a restaurant since 1791. Today you will find more than 500 seats indoor, 1200 seats with service in the beer garden and the spectacular amount of 7000 seats in our self-service area.
We serve best beers and tasty tavern cuisine in a beautiful ambience. Our warm hospitality makes your visit a special and unforgettable experience – no matter if you visit us during summer or winter. 
Cornelia Bartz ist seit vielen Jahren als Betriebsleiterin im Königlichen Hirschgarten tätig. Sie bringt sehr viel Erfahrung und Freude in das Team ein und sorgt mit Umsicht für das Wohl unserer Gäste.
Michael Schinharl ist gastronomischer Direktor und rechte Hand von Thomas Fesenmair. Er zeichnet verantwortlich für den operativen Bereich, den Bankettverkauf sowie PR und Marketing. Der erfahrene Gastronom und Verleger ist seit vielen Jahren beruflicher Weggefährte von Thomas Fesenmair und leidenschaftlicher Gastgeber.
Executive Chef
Dominik Kreuzig is the Executive Chef in the Wirtshaus and Beer Garden and looks after your culinary wellbeing. He and his team prepare tasty and typical Wirtshaus dishes with fresh ingredients, many of them home made.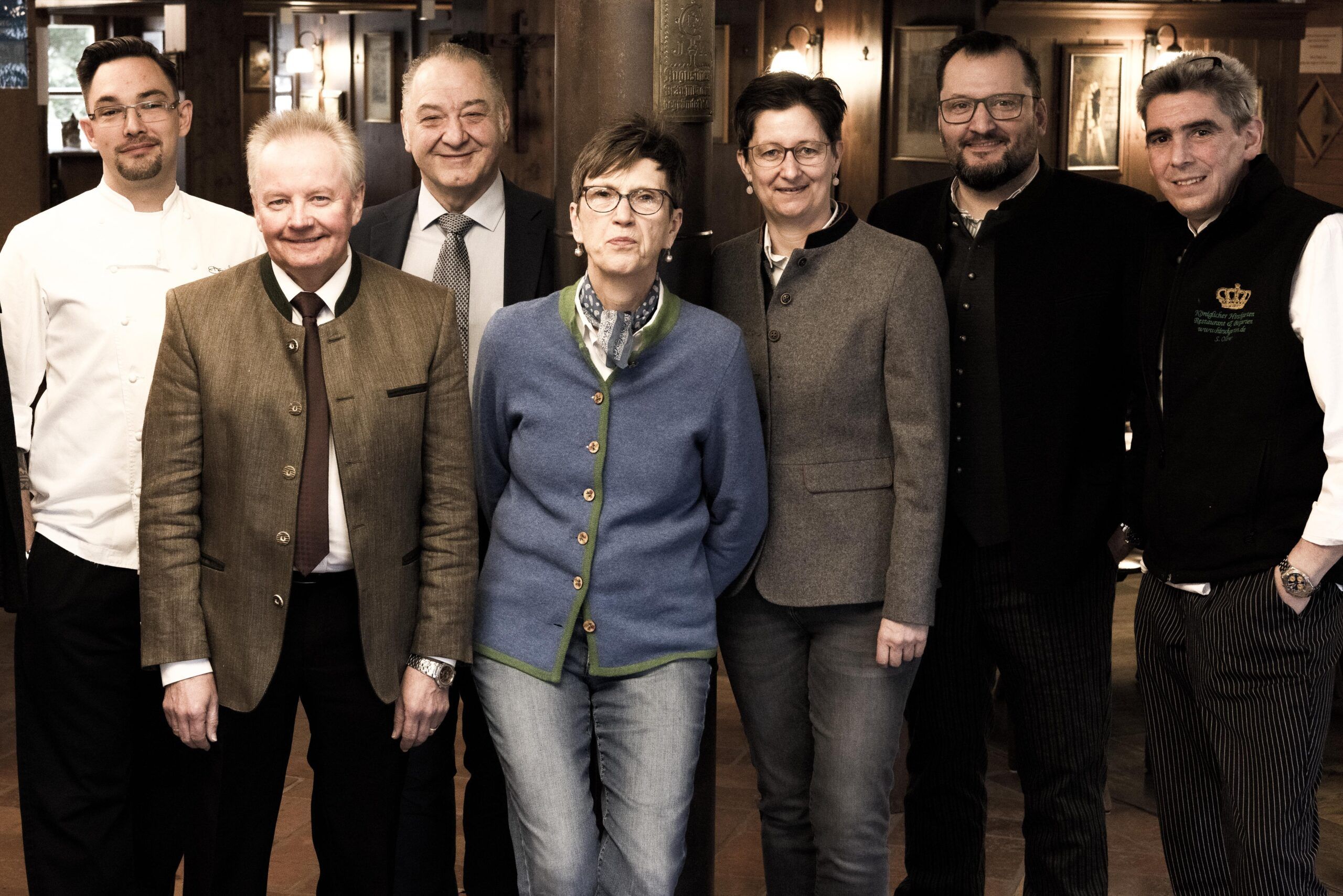 Our Team
Our hard working staff members  with skilled hands, fast feet and much passion make sure that you lack nothing during your stay in our Wirtshaus and Beer Garden.
Our management team (from left to right): Dominik Kreuzig (executive chef) Thomas Wagner (restaurant manager), Alexander Pantes (restaurant manager) Hildegard Winzinger (administration) Cornelia Bartz (operations manager) Thomas Fesenmair (host) Oliver Schampera (kitchen chef).
We are looking forward to your contacting us!
You can reach us by telephone or by email.
You can make your reservation directly online.
Königlicher Hirschgarten
Hirschgarten 1 | 80639 München
Open
daily from 11:00 am – midnight,
kitchen from 11:00 am – 10:00 pm
Mit dem Auto: 
Vorfahrt zum Haupteingang königlicher Hirschgarten Königsbauerstraße möglich.
Nutzen Sie den Parkplatz am königlichen Hirschgarten. Sie finden ihn von der Arnulfstrasse kommend über Guntherstrasse, links in die Kriemhildenstrasse und abbiegen in die Sustrissestrasse via Königsbauerstrasse. 
Parkplatz des Hirschgarten-Parks: Sie finden ihn der De-La-Paz-Straße, von dort gelangen Sie und zu Fuss durch den Hirschgarten zum Wirtshaus.
Mit der S-Bahn:
Haltestelle "Hirschgarten" oder "Laim" von dort zu Fuß durch den Park.
Mit der Tram:
Haltestelle "Romanplatz" und von dort zu Fuss den Schildern folgen.